Singapore by pedal power is a great way to see this amazing colourful modern city that's packed with history, culture, and iconic buildings.   You'll find this clean and green city an ideal stopover when travelling from OZ to far flung destinations on the other side of the world.
Cycling in Singapore
My tip is to go on a morning tour because it rains nearly every afternoon all year round.   Also, the upside of cycling in a small group with a guide is the sharing of local knowledge and current interest topics.   A brochure has its limits!
Let's Go Bikes Singapore
Let's Go Bikes.  Yes – that's the name of the tour company and so long as you can actually ride a bike the tour of four hours is very easy with no high levels of fitness needed.   The bikes have 20" wheels that you'll find a lot of fun over the  flat ground. (There are no hills in Singapore!)
The four hour Historical Singapore Tour has options for both morning and afternoon rides. You cycle about 20 kms in total with lots of stops for photos, information sharing and a tea break at an authentic café.
We were given a poncho, water bottle and helmet followed by a practice run on the adjacent paved area.  This was followed by a run through of safety instructions, road rules and hand signals … then we were off.
Speakers Corner, Singapore
First stop was Speakers Corner at Hong Lim Park in downtown Singapore that has been there since 2000.
As the names suggests, this is where citizens of Singapore can, on any day of the week, get up on their soapbox, express opinions and not end up in jail. (Word has it the government is a hot topic!)
The square is overlooked by ominous modern government buildings – almost telling the speakers to behave or else!
 Apartment Living
High rise apartment buildings stretched as far as the eye could see. Although it's easy to understand why – with a population of 5.5m people on a space of 719 sq kms most people have to live up and not spread out.
By comparison, Brisbane has a land area of 15,830 sq kms and a population of only 2,350,000!
Most apartments had washing lines coming out of windows. The bonus being washing only takes about five minutes to dry in the constant heat and humidity.
The Buddha Tooth Relic Temple and Museum 
Next bike stop was at the Buddha Tooth Relic Temple and Museum.  This was built in 2007 and is located in the Chinatown district.
The temple gets its name from what the Buddhists regard as the left canine tooth of Buddha, which has been recovered from his funeral pyre in India!
Chinatown
Chinatown was just a quick look in passing as you need at least a full day tour to soak up the atmosphere.  We saw low rise buildings all flaunting bold gold and red colours and briefly enjoyed the fragrant smells of traditional cooking.
Our guide explained this is an area that's proud of its heritage – which was quite obvious even from our brief look.  He also told us there are ornate Chinese, Buddhist and Hindu temples on the same street!
This fact alone explains the diverse cultures of Singapore and how they all live together in harmony. (Important note for the rest of the world)
Singapore Flyer – "almost" the highest observation wheel in the world.
From the Chinatown area we biked over the Helix Bridge that gave us sweeping views of the Singapore River, including the Singapore Flyer.  Standing at 165m high this was once the highest observation wheel in the world but has since been knocked out of first place by The High Roller in Las Vegas which stands at 168m. (Dubai no doubt will be coming up with something taller soon!)
Marina Bay Sands and the famous "Boat".
 Is that a ship on top of three buildings? No, it's a Skypark with a gigantic infinity pool.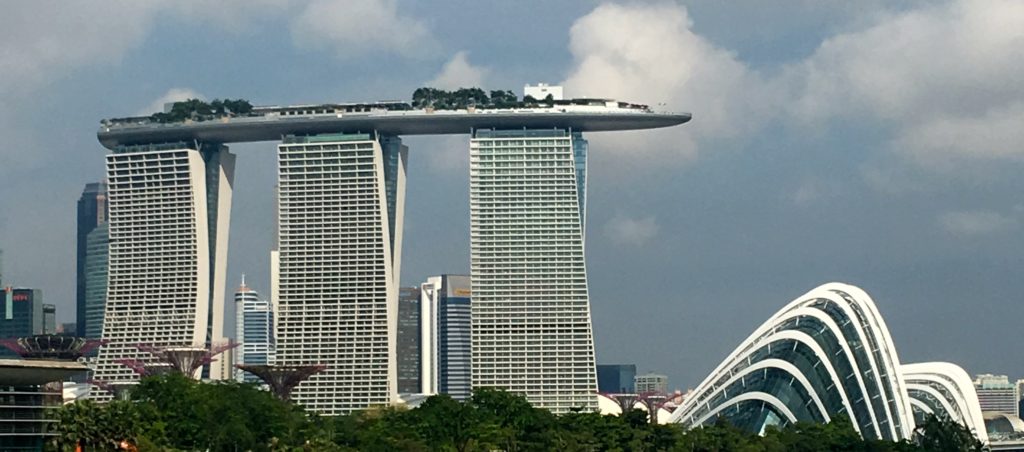 For $23 (or $20 for a senior) you can visit the skypark and observation deck to fully appreciate the panoramic views of Marina Bay and the mind boggling world-class cityscape and architectural wonders of Singapore. Sadly, swimming in the infinity pool is strictly for guests.)
Gardens by the Bay
We parked our bikes and wandered around the perimeter of the truly stunning Gardens by the Bay.   This was made more enjoyable because it was Children's Festival Week meaning there were hundreds of happy kids exploring the wonders of the Children's Garden.
The bike tour doesn't take you into the Gardens, but if you have an extra day put this on your "must do" list. The kaleidoscope of colour in the Flower Dome and the mystical water falls in the cloud forest will amaze you – especially if photography is on the hobby list.
ArtScience Museum, Marina Bay Sands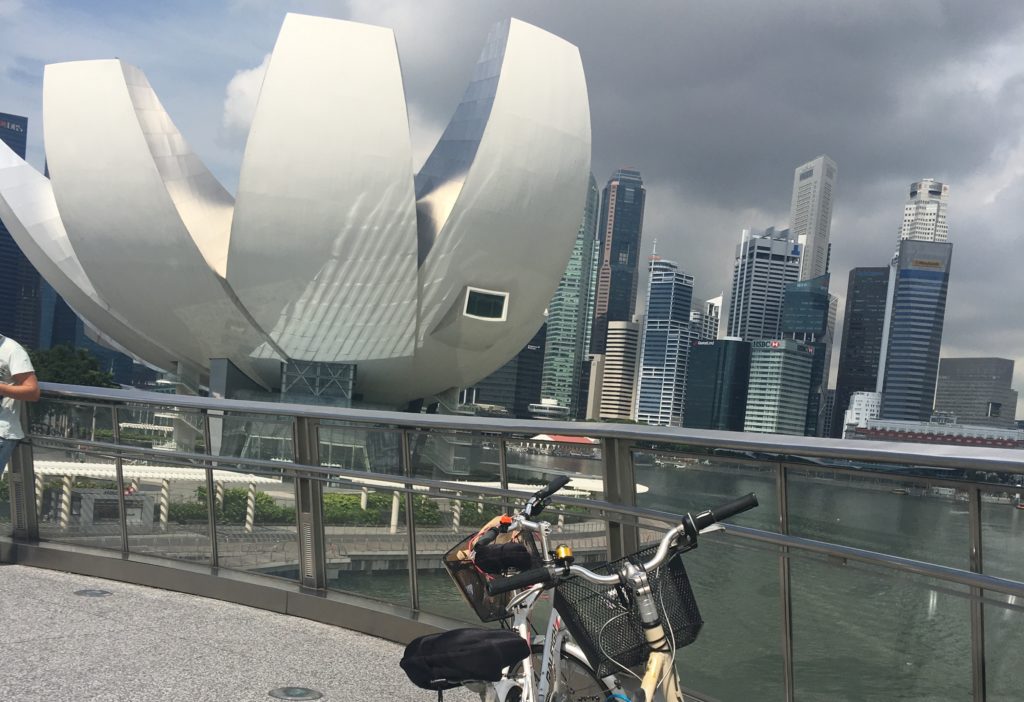 Just a few wheel rotations took us to the best known modern icon of Singapore – the massive ArtsScience museum built in the shape of a giant Lotus Flower.
This incredible piece of modern architecture houses both permanent and touring exhibitions.  So, if art and science is your thing, head back and enjoy a quiet browsing afternoon after your bike ride.
The Float!
Back on the bike seat and over a bridge where we stopped to admire the pristine Singapore River.  We were told when the old Port of Singapore existed the river was full of garbage, squatters and was smelly beyond belief. (Probably most ports in the world were like this in the old days).
Here you have a clear view of The Float – the world's largest floating stage. Can you imagine siting in a grandstand watching a game of footy or a concert on a floating platform?
Old Colonial Area
Although not stopping, we cycled past the Old Colonial Area catching a quick look at the old Parliament House and the picturesque St Andrew's Cathedral. There are walking tours if  you want to get up close and personal to more historical architecture  such as the Victoria Theatre and Concert Hall, Old Supreme Court and City Hall among others
Coffee break and Coconut Bread
With our trio starting to get both thirsty and hungry we stopped for coffee and oh so tasty coconut bread, also known as Kaya toast, in an authentic local café. (This was included in the tour price).
This Singaporean breakfast staple, washed down with a cup of coffee was just what the doctor ordered to reboot the energy levels for the next leg of the tour.
Our guide assured us the cafe also served "the best" chicken noodles in Singapore.  Note to self for next trip!
Tip 1 – have a decent breakfast before you go on tour because by the time the snack stop arrives your stomach will be really rumbling. (Well mine does every hour anyway so I was ravenous!)
Tip 2 – the standard coffee comes laced with condensed milk, so if you're not a sweet tooth make sure you say – NO milk.
Old Malaysian Town and Kampong Glam
With morning tea digested we headed towards the Old Malaysia Town and  Kampong Glam, a neighbourhold north of the river.
Our guide explained the Malays are the original inhabitants of Singapore and no other place reflects this better than Kampong Glam, originally called Sultan Road.
Parking our bikes we explored the colourful pedestrian Bussorah Street.  This mall was full of cafes and souvenir shops and  led us to the Sultan Mosque.
Before entering the mosque shoes came off and long robes went on – we were definitely fashion items!
The mosque,  originally built in 1824 and rebuilt in 1932, is the focus point for the Muslim community.
Inside the large open space of the mosque are story boards that explain everything Muslim, e.g. What is Islam? Who are Muslims? Who is Allah? Who is Muhammed? What is the Quran? Why do Muslim Dress the way they do?
After photos of both the mosque and ourselves in the glamorous robes (they were hand made with embroidery and all) it was back to the bikes for more pedalling.
The Gateway, Beach Road
Honestly, you could spend a week taking photos and discovering the reasons behind the different design of skyscrapers in Singapore, but The Gateway was worthy of a photo stop.   This is a 37-storey twin tower complex on Beach Road, Downtown Singapore and the two identical buildings are called The Gateway East and the Gateway West.
The design represents the Gateway to Singapore, which explains the name, although the locals apparently call the buildings "two towering cardboard boxes).  But…strange optical illusions happen from different angles.  From one side a tower looks like a flat TV screen and from another they both appear to be two-dimensional!
See what you think when you're cycling past this phenomena.
Boat, Clarke & Robertson Quays – old meets new
Our next stop saw us looking across the river at the Quays.  In an earlier life all the old buildings were warehouses for goods trading along the Singapore River.   Story has it, the more successful the merchant the higher his building.
The only businesses you'll find here today are restaurants, clubs and bars – this is where the tourists and locals come to party!
Sir Stamford Raffles and his famous pub
We cycled up to the white polymarble statue of Sir Stamford Raffles, founder of modern Singapore, standing with his arms folded and looking thoughtfully out to sea.  Wonder what he was thinking?  Obviously this was the spot with an ideal deep river bank, just what he needed for a trading port. The rest, as they say, is history.
Until Sir Stamford arrived, the sea came right up to Beach Road in the 1870s and 1880s.  After his arrival it was full steam ahead for land reclamation and building construction including his famous Raffles Hotel in the 1880s.
A selfie with Mr Raffles was very popular on the day – some selfie sticks were so long they needed a crane to hold them up!
Close to Raffles Hotel is the City Hall where we stopped to look at the memorial to commemorate the 50,000 civilian victims of the Japanese occupation in World War 2.  The younger locals refer to this memorial as the "chopsticks" because of the design.
The Civic District
While our bike wheels kept turning through this district our guide had previously told us this is where the history, architectural and cultural heritage of modern Singapore started. It's here that you see the Supreme Court and Singapore's new Parliament House.
The Merlion
Our last snippet of historical information was about The Merlion. This mythical creature has the head of a lion and the body of a fish and is the tourism mascot and national personification of Singapore.
The name combines "mer" (the sea) and "lion".  The fish body represents Singapore's origin as a fishing village and the lion head represents Singapore's original name—Singapura—meaning "lion city".
Merlion's home is Merlion Park in front of The Fullerton Hotel at Marina Bay.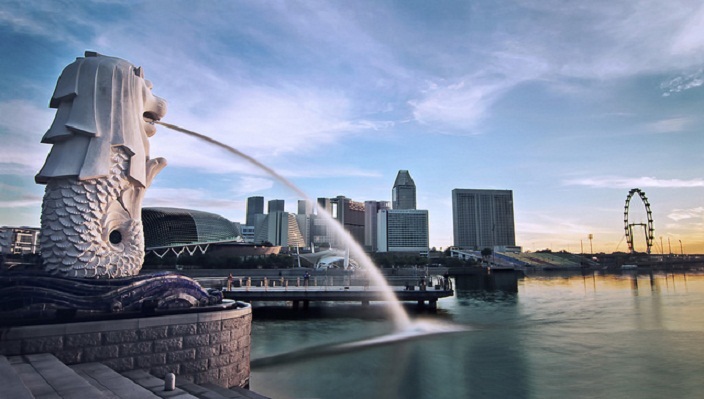 Happy Hour Singapore Style
All too soon it was time to say goodby to our pedals, companion bike rider and guide and head back to the hotel for a quick shower.    We then spoilt ourselves with a Happy Hour on the rooftop at the Fullerton Bay Hotel.  From here we  looked down and said hi to the Merlion!  A bonus was the nightly light show from the Marina Sands Hotel.
General information on Singapore
Best time to visit Singapore? Anytime.  It's hot and humid all year round. Temperatures are between and 27 and 30 degrees and humidity between 70% and 80%.  It seems to rain, or storm, every afternoon but not for long.
Everywhere in Singapore is close and taxis are cheap.
Public transport is also very easy to use if there for a few days.  A Singapore Tourist Pass costs only 10 SGD (Singapore dollars) and you get unlimited rides on many buses and trains.
Tap water is  fine to drink, so avoid buying water and just refill your bottle.
Other general travel tips – Gypsy A-Z Travel Tips.
Let's Go Bike:
The company is centrally located and its website, Lets Go Bike Singapore, has very clear directional maps.
Tour information:
You are given a helmet, poncho and bottle of water.
Bikes have baskets for your belongings, or these can be left at the company office.
Wear summer clothes whatever the season (remember Singapore is hot and humid all year round.
Covered shoes are recommended.
Take sunscreen.
Would suggest booking on-line before you leave home.
There are three tour options:
Historical Singapore Route, half day, 4 hours – $80 pp Singapore which converts to the same as Aussie dollars.
Bikes and Bites Tour, full day, 8 hours – $165 pp
Marina Bay Night Tour, 2 hours – $60 pp
(NB – these prices are for two people or more in the booking. It's more expensive for single cyclists.)
Now, do you remember Mark Twain the American writer and humorist?  Well he once said:
"Learn to ride a bicycle
You will not regret it, if you live"