"Have you been to NYC?"  This has been a frequent question over the years – usually followed by a look as if I had two heads, because apparently nearly everyone in the world had been except me!
Well this was fixed in October, when we added five nights in New York onto the end of a Canadian trip.
BEST decision ever!  Just loved every single thing about the "city that never sleeps" – especially people watching!
Thousands of people 24/7 filling the streets, shops, bars, cafes, subways, buses, trains etc.
Everyone so different – dreadlocks, hair braids, short, tall, dark, light, tourists, corporate – colourful clothes.   And…here I was worrying about what to wear – I could've walked around starkers and blended in!
The Famous Icons of NYC
While there was nowhere near enough time to visit all the famous icons, we crammed a lot into five days.
Time Out is a great site that gives a thumbnail sketch of the Top 50 NYC attractions.   If Museums are your thing, the top 50 of these are also listed – everything from the Guggenheim to Coney Island.
Affordable Accomodation – Where to Find?
Wolcott Hotel, Manhattan
Although we're avid travellers – backpacking over the years has lost its appeal, but so has paying a fortune at 5 star hotels.   From word of mouth affordable digs were suggested – the Wolcott Hotel on west 31st Street, perfectly located in Manhattan.   We booked through booking.com and paid only USD$260 a night in early October – 50% cheaper than most other hotels.
"Antique Chic" is a great way to describe this gracious old lady that was built more than 100 years ago.   Laced with old world charm our room was big, clean and close to quite a few favourite landmarks:
Empire State Building – two streets away (also one of the Hop on Hop Off bus stops)
Rockefeller Centre
Javits Centre
Times Square
Macy's (Herald Square) and H&M
Madison Square Garden
Subways (the transport type)
There was even a disused Opera Room on the ground floor where bags can be stored if arriving early.
Now, there isn't a restaurant at the Wolcott, but included in the room price was breakfast of muffins, tea and coffee in the foyer every morning.  (Although I think several guests stocked up on these for their daily food supply!)
(Note to self – always check floor numbers when going up in hotel elevators – TWICE we tried to get into someone else's room on the 6th floor (we were on 7th)  Very embarrassing, but sometimes on holidays hotel rooms become a blur!)
There's a Subways (food) on one corner and a huge food outlet called "Bread and Butter" on the other, which became our favourite place for a meal. Every hot and cold food item imaginable is available 24/7 for breakfast, lunch and dinner.   Our appetites were frequently satisfied for only USD$10 each.
Directly opposite the Wolcott is a bar called The Osamil (the red sign outside just says THE BAR).  This became a favourite for a Happy Hour and reliving the day's events after long hours of pounding the pavement.
AND on Mondays you get delicious oysters for "a buck a shuck" – bargain
The Wolcott is next to the Korean restaurant area of New York that has a complete street full of affordable cafes and restaurants.
The famous NYC Hop on Hop Off Buses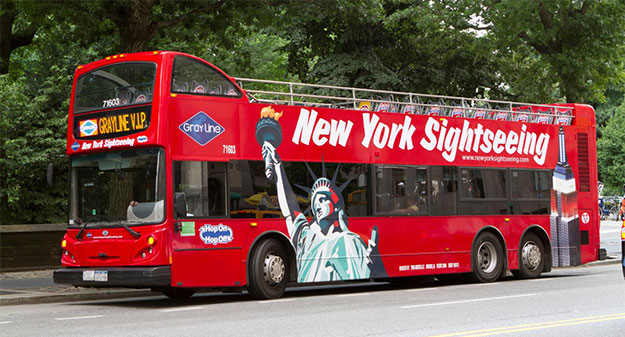 Hop on Hop Off Buses are always our first port of call and New York HOHOs are plentiful and great value.  For $US69 (Adult) you get 48 hours of unlimited access to four tours.
There are ticket-sellers on every single street corner in NYC which is really handy.   Be sure to ask about the "combos" which give free entry into different attractions at the stops, e.g. The Empire State Building.  You can also book on-line before you arrive.
Word of warning though – the buses are crowded and a seat up top isn't always possible.
Tickets in pockets we were off on the Uptown Tour because we planned to make our first stop a cycle around the incredible Central Park.
Many museums, and hop off stops, were pointed out by the audio guide, including museums of Guggenheim, Modern Art and the City of New York, plus the One World Observatory.
Central Park – the lungs of NYC
Ah – Central Park, the lungs of New York that covers 800 acres.
Central Park is worthy of its own blog post, so (when that's done) the link will be added to this post.
NYC is legendary for its lights after dark and the top deck of the bus is definitely the place to be.
We clearly saw our neighbour (The Empire State Building) plus the Rockefeller Centre silhouetted against the night sky, Times Square, Brooklyn Bridge and Chinatown were among other favourites.
This bejeweled light space was a firm favourite.  Apart from viewing from the bus roof, it was only a 10-minute walk from the Wolcott so we headed there most nights to get our fix of "people watching".
Be warned – if you have a photo taken with one of the super heroes in the area you're expected to pay – significantly more than $USD1.
This bridge definitely reminds the word that NYC has a history of incredibly innovative architecture.
Trivia – When opened in 1883 it the longest suspension bridge in the world.
A walk across the mile-long (1.6km) bridge will give you spectacular views of lower Manhattan, the Statue of Liberty, Governors Island and other NYC landmarks or which there are hundreds!   (We stayed on the bus, but am just passing this important information on for future visitors to the Big Apple!)
Hispanic Day Procession – a Bonus in 5th Avenue
The next day the Rockefeller Centre was in our sights.  This happened to be the day before the annual Christopher Columbus Day parade when Hispanic Day is celebrated by South Americans with their own procession.
We found ourselves surrounded by more than 35,000 South-American marchers and groups, young and old alike. The parade totally takes over Fifth Avenue for four hours with around 1 million people turning up for the amazing celebration.
Just picture – country after country from South America on parade – the colours and music were captivating with young and old taking part with passion and flair and BIG smiles.
Note – if visiting New York at the beginning of October make sure you're there for these two annual processions – around the 12th of the month.
Rockefeller Centre, 5th Avenue
With hundreds of parade photos on phones and cameras we finally made it to the Rockefeller Centre.
On the massive forecourt at the base of this skyscraper is an ice rink that is set up for the coming Christmas season.
Only 150 people are allowed on the ice at once.   Waltz jumps and double axels weren't on our to do list but watching others do this was enjoyable and gave the chance to catch breath for a while.
Tickets for the observation floor on the 70th floor of this building , AKA The Top of the Rock,  can be booked the on-line to avoid waiting in queues.
Lego Land Forever
The famous Lego Shop is directly opposite the Rockefeller Centre and you instantly feel like a 10-year old again.  The models made from the bricks definitely give inspiration to buy up big for your retirement hobby!
Macys – The Flagship Store of NYC
This HUGE world-famous store was an excellent place for a peek on the one wet day we had. The store is amazing, and like everything in America – absolutely huge.   But, our expectation at bargain buys was short lived. There didn't seem to be any – most prices were the same as back home in OZ.
Funnily enough, the layout is very similar to Myer, David Jones etc. in Australia. Perfumes – ground floor, ladies' shoes – second floor and so on.  Even the old English comedy "Are you Being Served" has the same floor as Macys!   Although there wasn't a rickety old lift in sight!

9/11 Memorial and Museum
After leaving Macy's in the rain we headed off to the 9/11 Memorial. (link)
Yes, this is a truly sad and humbling visit, but visit you must if in NYC.
The Memorial and Museum are built on the footprint of where the Twin Towers once stood.
There are twin reflecting pools – a stark reminder of how fragile life can be.  Both one acre in size they are surrounded by bronze panels showing names of the 3,000 victims, including the first responders who died helping the victims.
Hearing the first-hand accounts of survivors and recordings of families who received last minute calls from the victims while still on the planes was confronting.  As were the photos and video footage of the attacks.  There were many tears among visitors that day, including our own – so so sad that one of New York's biggest tourist attractions is the result of such tragedy.
The One World Trade Centre, NYC
This skyscraper is a sight to behold standing at 104 floors high.  When first constructed on the 9/11 site (2006), it was called the Freedom Tower and is still referred to as this by many.
Snippet of interest – Wikipedia tells us it's the tallest building in the Western Hemisphere and the sixth-tallest in the world.
After spending half a day at the Museum, we found the HOHO bus stop and headed back to the hotel.
It was raining, but so we wouldn't miss any famous landmarks we chose to sit on the top in our yellow ponchos (provided by the bus driver)
Hop On Hop Off Combo Ticket 
By the fourth day our 48 HOHO bus pass had expired so we bought another.  This time we were more savvy and selected a combo ticket which would give us the Ferry Tour plus a long list of iconic sites of which two could be picked for free entry.
For us it was the Empire State Building, but to shorten this Guinness Book of Records blog, the Ferry Cruise and Empire State Building have their own blog. Watch this spac
Then after the fifth night and, somehow or other, a couple of kilos lighter (all that walking!) – it was off to the airport to catch a plane to Las Vegas!
We'll be back and can recommend a week (at least) in The City That Never Sleeps.
Friendly advice:
Airport shuttle to Wolcott Hotel was USD$15
Tipping is an expectation – from 15%, 18% or even 20%. It's no use complaining – the US pays such poor minimum wages that servers depend on tips. It's these people you are thanking, not the system.
Make sure you allow for taxes that are added to EVERYTHING in the USA.
Take a stash of USD$1 notes for tips
Keep the Museum visits for a wet day (if there any on the horizon)
Check every tour for concession prices.
In summer – take a hat, sunscreen, water bottle and poncho.