Ireland – Home to Guinness, Racehorses, the Blarney Stone and Crystal!
At the end of a six day whirlwind, but truly amazing Globus tour of Ireland we were lovers of everything Irish – Guiness, Stew, Coffee and jokes.
When Irish eyes are smiling…..
In Dublin's Fair City, where the girls are so pretty…..
We arrived in Dublin, capital of the Emerald Isle by ferry from Hollyhead after crossing the Irish Sea. What a ferry this was – more like a mini cruise ship and very comfortable and even had a duty free shopping store. The crossing took about 1.1/4 hours which was enough time to grab a light lunch from the variety of food outlets.
The first night in Dublin saw us head off to an Irish cabaret evening – lots of Irish dancing, song, jokes and laughs.
The next day started with a walk along O'Connell Street in the city lined with many interesting bronze statues. Continuing along Customs House Quay we were faced with many statues depicting the terrible times experienced by families during the potato famine.
Did you Know –
 In 1840 there were 8 million people in Ireland all who survived on the 'lumper' potato that could grow in poor soil and was nutritious. Disaster struck in 1841 and a blight caused the potato crop to fail. With no other source of food famine was widespread throughout the land. By 1845, half a million people had died and another half a million had fled to England or America.
So, for many it was the "Luck of the Irish" that got them through. Because (and I didn't know this) the expression isn't about luck at all – it's more about attitude and having a positive outlook and sense of humour when in a bad situation.
Other stops in Dublin were –
St Patrick's Cathedral with its mighty 43-metre spire – the tallest and largest gothic cathedral in Ireland. At least there were no snakes in the church grounds because good old St Pat got rid of all the snakes in Ireland! (Didn't he?)
Oscar Wilde's statue and the Trinity Oscar Wilde Centre for Irish Learning was interesting. Family. (NB – his full name was Oscar Fingal O'Flahertie Wills Wilde –quite a handle.) With Dad as a doctor and Mum a poet Oscar was very bright but unfortunately remembered more for being imprisoned because he was gay.
Guinness is Good For You! 
A late afternoon visit to the legendary Guinness Storehouse was eagerly anticipated and didn't disappoint. From humble beginnings as a fermentation plant from1904-1988 it's now a seven storey visitor experience dedicated to the history and making of this world famous beer.
On arriving at the 7th floor you're given a pint of the tasty black stuff with the creamy froth to enjoy followed by a top up if needed. From this lofty height you have a 360 degrees view of Dublin with 11 hot spots including stadiums, mountains and monuments.
The history of the Guinness Storehouse is captivating and worth a visit to the website to understand the magnitude of how this operation has evolved from humble beginnings in 1759.
The Irish National Stud at Kildare
A different start to the day was at the world class establishment of everything horse breeding related is only 45 minutes from Dublin City and one hour from Waterford.
Sitting on 1000 greener than green acres the stud is home to approximately 8 world renowned stallions, 200 brood mares and their progeny, plus Japanese Gardens, St Fiachra's Gardens and a horse museum.
One thing for sure, you'll never need to visit another horse stud once you've been here.
It was the inspiring vision of one William Hall Walker who created the Irish National Stud over a century ago and gifted to the Crown of England in 1915. Yes – the Queen has visited to see the legendary premises where her five winners of the classics were bred.
The story goes that the eccentric Colonel had a penchant for astrology and used to select his racehorses according to the stars under which they were born!
For those that lean more towards nature the surrounding gardens are truly spectacular and instil peace and tranquility into your soul as you walk among the many different colours of foliage.
The Japanese Gardens are famous throughout the world and were laid out by Japanese master horticulturist Tassa Eida and his son Minoru. They offer "a seamless mixture of Eastern and Western cultures".
St Fiachra's Gardens have a more mystical and Irish feel, St Fiachra's Garden is designed to reflect the Irish landscape with rock and water creating a natural beauty of woodland, wetland, waterfalls, lakes and streams.
Then there is the really interesting Horse Museum for those who like to follow the bloodlines of these magnificent creatures.
Be sure you end your tour at the Japanese Gardens Restaurant. The range of fresh and wholesome food is mouth watering and its difficult to go past the "huge platter of Irish smoked salmon and freshly-baked brown bread that comes with a selection of the finest fresh salads!"
TIP….Next Melbourne Cup…make you have a flutter on an Irish horse…to be sure, to be sure!
For the next two days we drove through the scenic and enchanting emerald green countryside – through Cashel, Tipperary, Limerick, the Clare coast (home of the Cliffs of Moher) then across the limestone plateau of the Burren to the port city of Galway.
Rathbaun Sheep Farm and Fresh Scones
While in Galway we took a slight detour to the working Rathbaun sheep farm that is just a stone's throw from the Wild Atlantic Way, This was no ordinary sheep farm because on arrival we launched into making our own scones from scratch – under the watchful eye of the lady of the farm. Be warned you will look hilarious in your cooking caps!
While our scones were baking in the oven we followed the farmer and learn about the history of the farm. Here you have the chance to feed baby lambs with bottles of milk and watch the star of the show – an energetic collie dog – show off his sheep herding skills. The sheep weren't impressed but we were!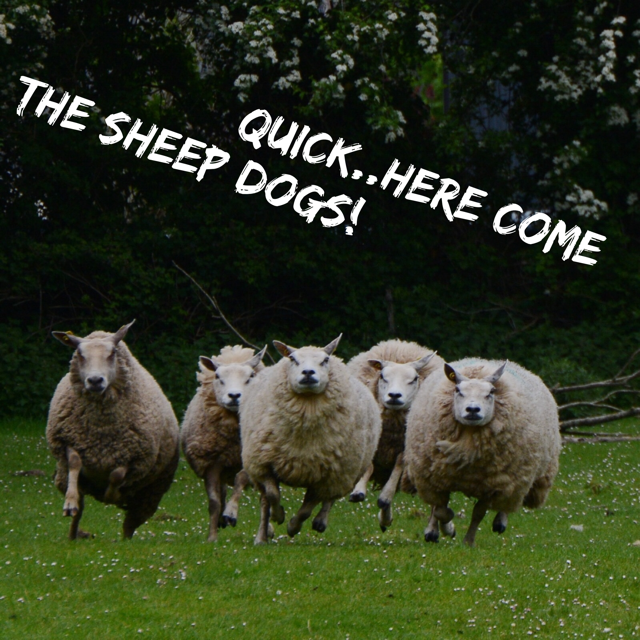 We looked through the original 250 year old thatched farm house (ducking our heads to get into each room) totally fascinated at how life was lived in the good old days.
Then it was back to eat our "own" scones and enjoy freshly brewed tea and enjoy warm hospitality and stories of farm life, past and present. (Facebook – Rathbaun Farm)
Limerick, Adare, Dingle Bay, Ring of Kerry, Tralee….
 After leaving the farm we embarked on a 100 mile (161km) panoramic drive along the spectacular Ring of Kerry and pasing many pretty thatched cottages, previously only seen in books. The drive took us around the south-west tip of Ireland. – but where was the Blarney Stone?
Kissing the Blarney Stone
The next morning the first stop was Blarney Castle to kiss the famous stone and become "instantly eloquent."
To reach the stone you have to walk up a few sets of spiral steps. These are quite tight so if you suffer claustrophia you might have an issue – it's one way in and one way out though which helps.  Note – the only person to capture your magic moment is the official photographer, you then have the option to buy the photo.  (No surprise there of course).
Also…the jury is still out on whether the stone is cleaned after each kiss, or just randomly.  This doesn't seem to phase the thousands that line up yearly to be part of history!
The castle itself is 27 metres high and mostly in ruin, but gives an idea of what it used to be like in days gone by and is worth a wander through.
The grounds of the castle are really something and if you are a landscape photographer you'll be in your element.
Farewelling the castle and practicing on our new found art of speech (which didn't work for any of us it seems) the afternoon drive took us through the picturesque town of Cork that led to Waterford and the most famous crystal in the world.
Waterford Crystal Factory
Established in 1783 by the Penrose brothers, Waterford Crystal has created some of the world's most iconic objects – these include the chandeliers at Westminster Abbey and the Times Square New Year's Eve Ball in NYC.
On our tour of the main factory we saw the whole process of crystal making – everything from molten-crystal blowing, molding, shaping, cutting, engraving and finishing and and met master craftsmen along the way.
There are also viewing platforms above the factory floor so you can always see what's going on. Toward the end of the tour we saw a smaller version of the Times Square NYE ball – the original is made up of 2,688 Waterford crystals!
As it was afternoon tea time we headed to the on-site café and we enjoyed delicious home-made soup and Irish soda bread.  (We needed to build up our resistance not to buy too much at the gift shop that was the last stop of the tour!)
The showroom with every different crystal cut imaginable was mind-blowing – any items purchased can be shipped back to your home town to avoid breaking on the rest of your trip.  Oh, it's se easy to get caught up in the shopping mode when surrounded by such beautifully crafted pieces.
Travelling Independently
We couldn't fault our Globus tour of Ireland and the massive amount of knowledge shared by the guide. However if driving independently on this particular loop of southern Ireland the following information may be of use:
Irish National Stud – Facebook – @irishnationalstud
Directions From the M7 take Exit 13 in the direction of Nurney on the R415 as far as Newtown Cross.
Distance from Dublin – 61 kms. Approximate driving time 45 minutes from
Opening hours 9am – 6pm Monday to Sunday
Organised guides throughout the day – cost €12.50 (AUD $110)Allow 4 hours to enjoy the tour and gardens.
Cost of tour – Adults €79 (AUD $17.50); Seniors €9.50 (AUD $13.50); Families of four €79 (AUD $17.50)
Tipping – Tip the guide 10% of tour cost
General – Gypsy A-Z tips
Rathbaun Farm – Facebook – @rathbaunfarm
Distance from Galway City – 30.4 km via the N18. Approximate driving time 30 minutes.
Opening Hours – Fridays only 12 noon – 2 pm (includes scone making, sheep shearing, sheep herding etc.)
Cost of farm tour/tea and scones – €20 (AUD $28.00) or for two people €35 (AUD $49.00);
Blarney Castle – Facebook – @blarneycastle.ie
Distance from Cork – 8km
Opening Hours – 9am – 5pm every day
Cost of tours – Adults €15 (AUD $21.00);  Children €6 (AUD $8.50), under 8s are free; Families of four €35 (AUD $49.00) (Tip – book on-line at Blarney Castle and prices are cheaper)
Waterford Crystal – Facebook – @waterfordcrystal
Cork to Waterford – 110 miles (130 kms)
Opening Hours – these vary considerably through the year.  Visit Waterford Crystal site for complete details
Cost of tours – Adults €12.15 (AUD $17.00);  Children €5 (AUD $7), Seniors €11 (AUD $15.50) Families of four €30 (AUD $42.50)
TIP – it's cheaper to book all ticket on line for these attractions.
Then, all too soon it was back on the bus and over the Irish Sea back to Wales.
And when Irish eyes are smiling – Sure, they steal your heart away…