Skagway was a highly anticipated port of call when sailing the shores of Alaska.  Reason being, a "Summit to the Sea" cycling tour with Sockeye Cycle Company had been pre-booked to retrace the historic Klondike Gold Rush.
The bike ride literally flies down from the White Pass Summit – if you're looking for an adrenalin rush, this one's for you.  Cycling skills and concentration were definitely needed on this ride as compared to riding through Paris at Sunset, or cycling the Ancient Appian Way in Rome 
Note – there's no time to look for gold nuggets on the way down the Pass!
Our group had eight people – small is good on bike tours.  We were greeted at the dock by the tour guide, and driven up to the White Pass Summit of the Yukon Pass – 15 mile (24 kms).
Nerves started to kick in as the climb seemed to go on forever with steep roadside drop-offs!  These of course were on the other side of the road coming down!
The friendly guide chatted along the way sharing the history of gold-crazed stampeders during the rush of 1898.  This information was accompanied by many entertaining stories of the past and present life in Scagway – gateway to the Klondike.
After 25 minutes of driving we reached out starting point – the White Pass Summit standing a 3,292 ft or 1,003m.  Bikes and helmets were issued and an in-depth bike orientation and safety briefing given on all aspects of the bikes – most importantly correct use of the BRAKES that would be used non-stop.
At a comfortable pace we headed downhill.  Then…we were cycling FASTER and FASTER!  At one stage, when travelling at 30 mph or 48 kph, (no exaggeration here) I thought we'd be better off with a magic carpet! For us old Mum and Dad comfort bikers this was definitely a speedy trip – thank goodness for the large disc brakes.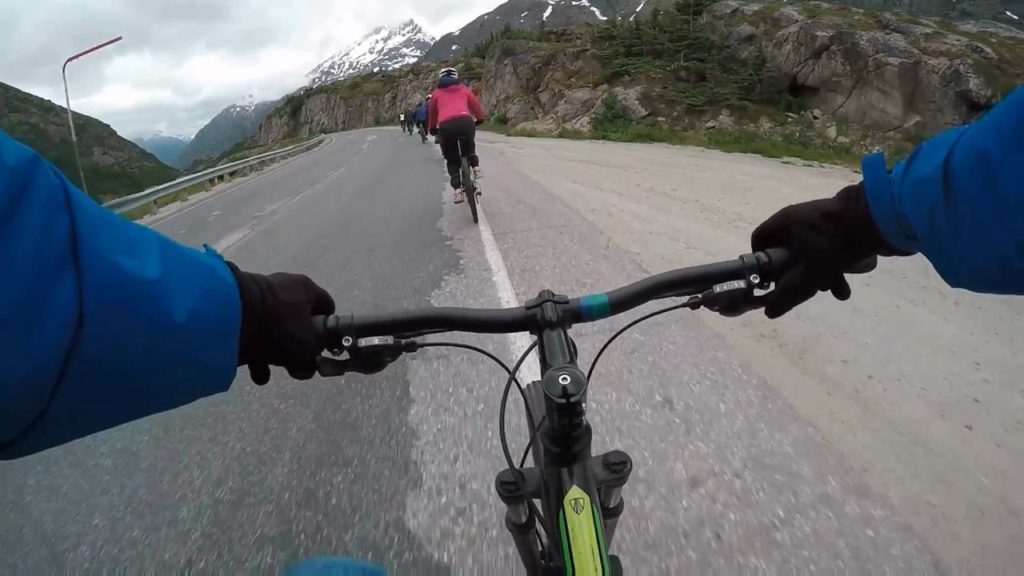 Getting used to the breakneck speed didn't take long and, while still concentrating on staying upright, the thrilling ride was a lot of fun. (We constantly reminded ourselves not to cycle on the white line because it was as slippery as ice!)
The added bonus of this spectacular ride was being aware of the Alaskan sights and sounds that I'm sure can only be truly appreciated on two wheels.
White Pass and Yukon Route Railroad.
First photo stop was to view the historic White Pass and Yukon Route Railroad rail track that is carved into the side of the majestic mountains.  The line was re-opened in 1988 and is now used just to transport tourists to the Klondike.
Bridal Veil Falls, Skagway
The cascading Bridal Veil Falls were next.   Although not as huge as Niagara, Victoria or Iguazzu, all waterfalls have their own attraction and these were worthy of a photo stop.
Did you know – there are 42 other Bridal Veil Falls in nine countries around the world.  (I Googled this to check the accuracy of the statement our guide had made).
Two more brief stops were made to appreciate distant, but mind-blowing, glaciers.  We appreciated these long distance views as close up and personal experiences had been experienced in Glacier Bay.
Oh No – Skagway Roadworks!
After getting used to precision road racing (or it felt that way), we were suddenly faced with roadworks!  Travelling over this bumpy stretch of 500m certainly brought our nerves back to life and added even more entertainment to the ride.
Crossing the USA Border on a Bicycle
Trepidation arrived at the US Border Patrol!  (The Bike Tour crosses over into Canada).
Although forewarned about the need for passports, we had totally forgotten about the border crossing.   Relief was on everyone's faces our guide came out of the Customs building with passports in hand and gave us the thumbs up.
Then, the tour was over and we were back Skagway, happy with the unique experience in the northern outdoors and being able to boast we had cycled:
over the border from Canada to the USA" and
through three climate zones – Alpine, Sub-Alpine and Temperate
The Streets of Skagway
1 – Red Onion Saloon
Now it was time to relax and see what the charming streets of this Harbourside town had to offer.
The first port of call (no pun intended) was to quench our hard-earned thirst at the infamous Red Onion Saloon.
This popular drinking and eating house offers many craft beers and a substantial lunch menu.
For the information of beer drinkers – the local brews include:
Alaskan Amber – malty copper colored alternate style ale
Alaskan Summer Ale – a crisp and light Kolsch style ale
Alaskan Icy Bay IPA – golden ale with a crisp hop finish and citrus aroma
Saloon Favourites were:
Duck Fart – it's the shot the salon is known for!
Glacier Margarita – as blue as the glacier but more refreshing
Miners Scratch Hard Lemonade – the Saloon's own house-made lemonade with Tito's Vodka.
The "Quickie" Brothel Tour
One employment opportunity that goes hand in hand with a gold rush was advertised prominently  in a window at the side of the Saloon.  Brothel Tours for USD$10!
We had run out of time to check this fun tour out – but apparently one of several beautiful madams make an announcement from the back stairs and whisk you up the "stairway to heaven".  You will walk the same floors as yesteryear's lonely miners and ladies of negotiable affection etc. etc.
Oh, and the tour includes a souvenir garter –  bargain!
2 – Arctic Brotherhood Hall, Skagway.
This Hall, sitting in Broadway Street, Skagway, is the most photographed building in Alaska.
Built in 1899 the Hall was a club for the gold prospectors and now is used as the Visitors Information Centre. Constructed with 9,000 of decorated driftwood it's fascinating to say the least.
3 – Miner's Gems, Skagway.
Skagway is all about gold.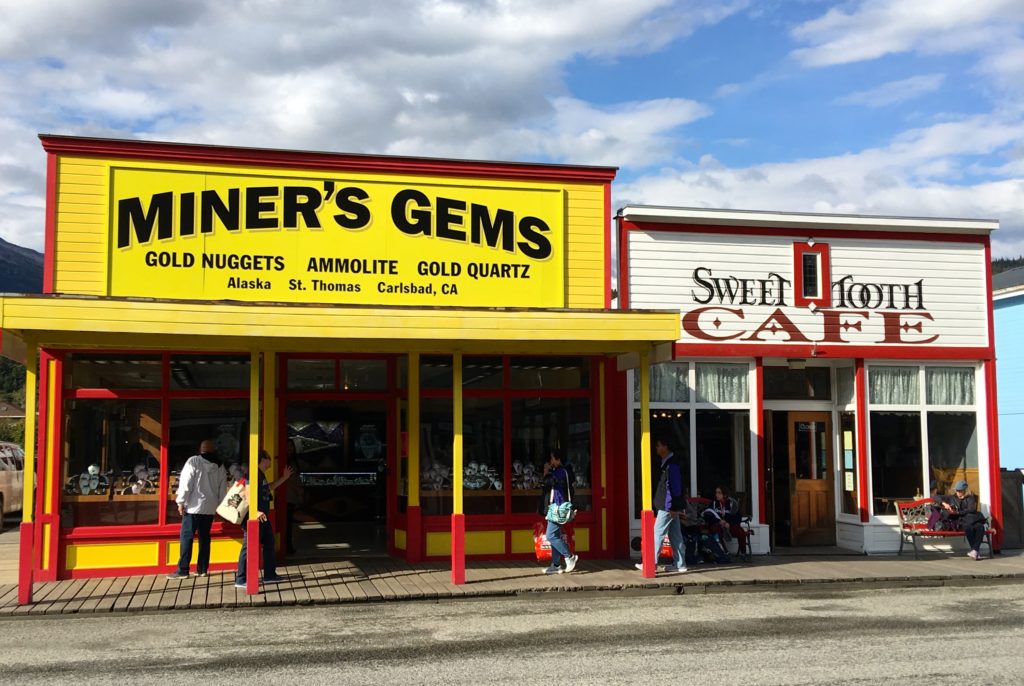 4 – Golden North Hotel, Skagway.
Once there were 80 bars in town to keep up with the thirst of prospectors!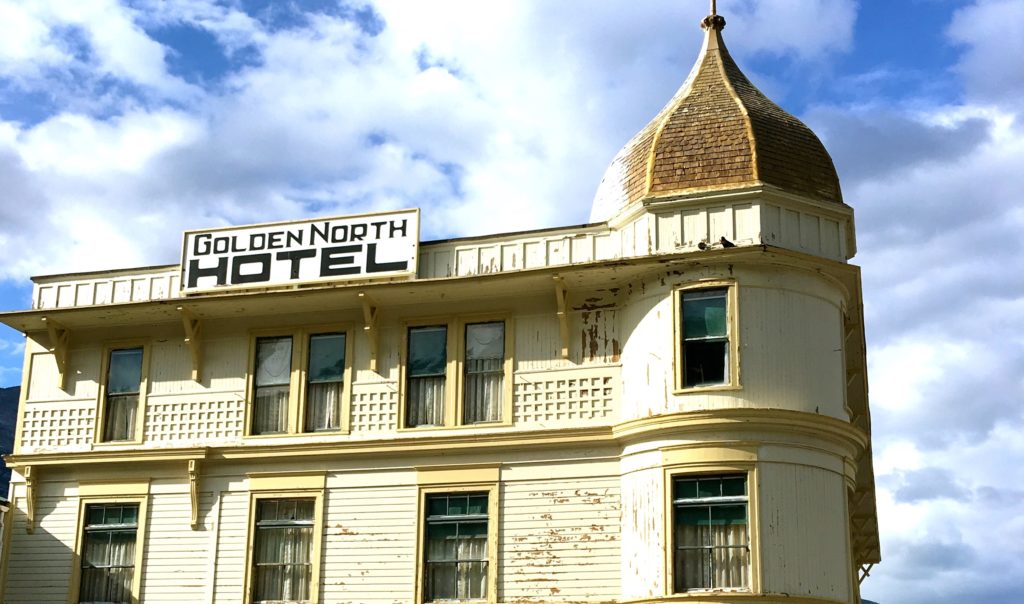 5 – For the men – The Cooke Rotary Snowplow
On the way out of town, you meet this historic beast.  Just imagine the raw power and deafening roar of the 129 ton Cooke Rotary Snowplow as its circular blades carved through deep snow drifts on the White Pass rail track – sometimes as high as 12 feet (3.6 metres).
Built in 1899,  powerful locomotives had their work cut out to push the snowplow along the tracks.
Told you it was a story for the men!
Farewell Skagway.
All too soon it was time to take our weary legs back to the cruise ship, happy in the knowledge that we'd lived to tell the story of hurtling down White Pass Summit faster than the speed of sound.
Well, it certainly felt that way and it was going to be my story!
An amazing bike ride with a very reputable company.  Would definitely recommend this  to anyone wanting to blow the cobwebs away when visiting Skagway, Alaska.
Need to Know:
This tour was booked through the cruise ship, but you can book direct with Sockeye Cycle Company
You need to be confident on a bicycle with hand brakes coasting downhill at speeds between 15 and 30 mph (23 – 435 kph). However, there is a back up van for cyclists who decide they prefer a lift back to Scagway.
Passports and necessary immigration documents are needed for US border inspection.
Riders must be at least 13 years old and 4'6" tall.
Wear layered clothing – its' very chilly at the top.
Helmets are provided and must be worn.
Rain/wind jacket, pants, ponchos and fleece gloves are provided if needed.
Participants must be at least 13 years old and 4'6" tall.
Sport shoes and layered clothing are recommended.
The ride is approximately 15 miles (24 kms).
Tour time approximately two hours.
Will you go on this cycling tour?