Calling all parents and grandparents who have little people interested in magic…
In my own backyard of Scarborough Beach, Moreton Bay Region– there's a magic tree. This comes in the shape of an ancient Norfolk Pine that is well is worth a visit with your little people.
Reliable chatter has it Gollum and his team of Hobbits have taken up residence behind a medieval door in the base of the ancient tree!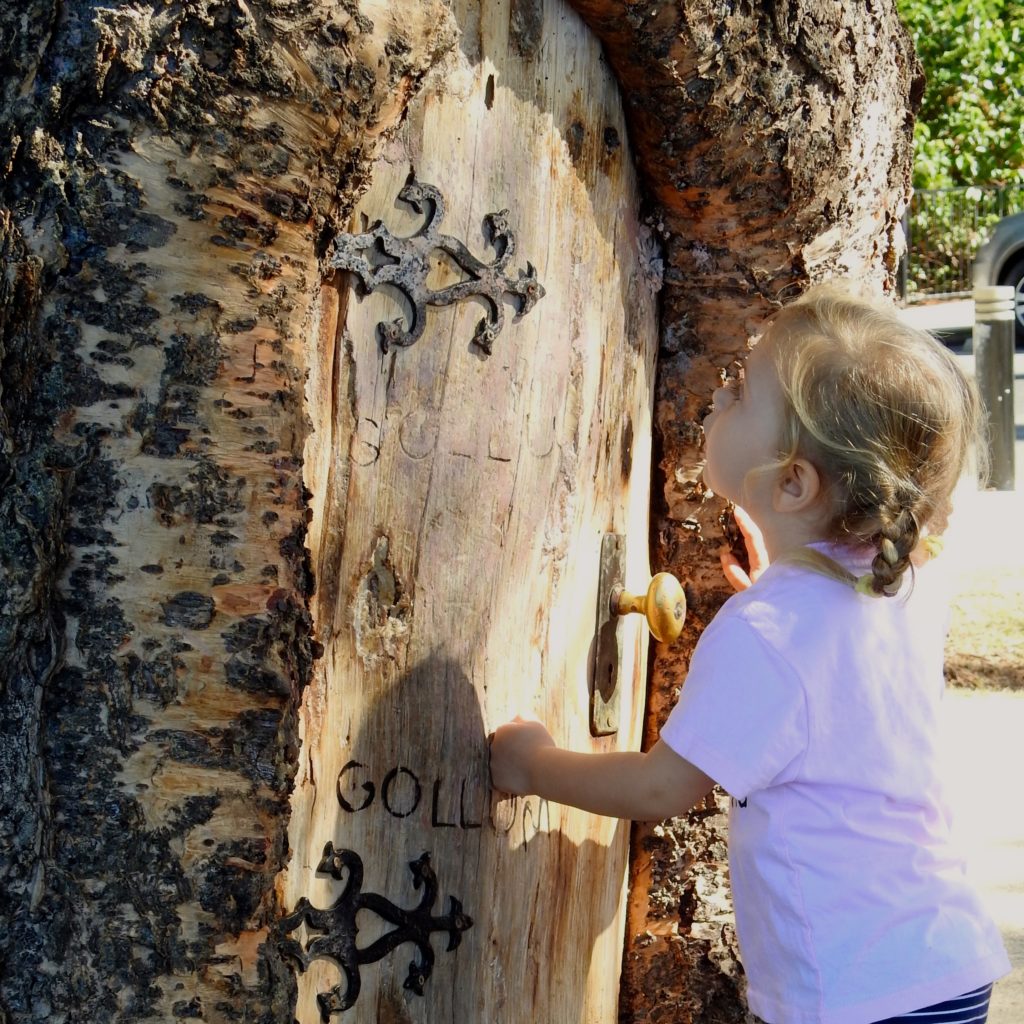 This is a Magic Tree!
Chasing Magic
A day trip to the beach will reveal what many have pondered since the festive season of 2013 when miraculously a secret door appeared at the tree base behind which, accordingly to local legend, is a creature, or creatures, of a magical age in days gone by.
This mystery started in December 2013 when a section of bark was removed from one of the massive Norfolk Pine at Scarborough Beach in the Moreton Bay Region. Then appeared a door – nearly 1.5m high in the shape of a medieval arch, complete with brass door handle.
Next, a very small door (only 15cm square) arrived at the base of the larger creation. Story has it that this was specifically for a sneaky literary foe named Gollum and his hobbits to come and go as they pleased. A peek through the small window will show a lit-up figurine of Gollum himself ready to get cranky with all humans who invade his space.
As Christmas got closer in 2013, a letterbox, picket fence and fairy lights magically appeared at the tree. Over the next week or so children spent many hours writing their wishes for Santa and placing them in the letterbox. Local residents have it on good authority that all orders were filled despite the grumpy moods of Gollum and Team Hobbit who possibly arranged removal of the letterbox before Christmas 2014!
How did the door get there you ask? No-one knows, but it has captured the imagination of children and adults wide and far– each putting a different spin on this fascinating and unexplained wonder.
Magic Tree appears on Facebook
Word of the mystical Gollum Tree spread like wildfire throughout the Moreton Bay Region and attracted the attention of TV, radio and newspapers. Then with the flick of a wand a Facebook page arrived! https://www.facebook.com/thegollumtree/
The magic hasn't dwindled, and every day children can be seen peeking in through the smaller door and listening to the chattering sounds of "it's windy, wind comes to scare us, we shuts our door, we shuts our windows, we shuts our eyes, we hides, Master don't likes it".
Owl Eyes Appear
But there's more…two sets of owl eyes became firmly embedded near the top of the door. You all know owls have been being associated with magic over the ages and this has further fuelled the question on everyone's lips – is there a web of tunnels under the magic tree? This would let the 500 year old grumpy Gollum and his Hobbit team to roam back and forth to Middle Earth at whim to search for the eternally missing Ring?
Enjoy Scarborough Beach
Enough of the magic, it's now back to reality and a walk along the family friendly Scarborough Beach. The calm and sheltered water is ideal for swimming, stand-up paddling or to just have a romp with your family dog along the sand. Who not top the day with the kids off with a coffee (juice) and snack from one of the many cafes close by on Landsborough Avenue – all with ocean views. (The playground equipment next to the beach, is in itself magic!)
These cafes have for years been plied with questions about the magic tree of Scarborough Beach in the Moreton Bay Region and may just have the answers to your many questions.
How to get there:
Directions from Brisbane:
Head to the Bruce Highway (M1) and follow the Deagon Deviation over the Hornibrook Bridge. Take a left turn up Victoria Avenue to reach the heart of Redcliffe. This trip from Brisbane takes about 35 minutes.
Directions from the Sunshine Coast:
Get onto the M1 (Bruce Highway) and take the Deception Bay Road exit. Then continue straight through the roundabout onto Anzac Avenue to reach Redcliffe. This trip takes around an hour.
Facilities at Scarborough Beach:
Ample car parking
Masses of playground equipment
Electric BBQs
Picnic shelters
Water fountain